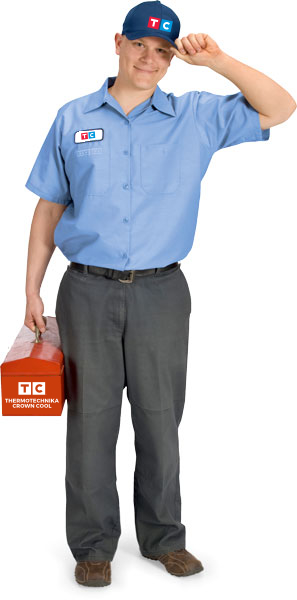 If you choose this path, error notification will be sent directly to our center in Budapest by e-mail. Our representative will contact you shortly to set time of inspection. Inform our service from 8:00 AM to 6 PM Monday to sunday
Call centre - Our call service representatives are available Monday to Saturday from 8.00 to 18:00 at +36-1-4200-550 and +36-1-4200-551 You call directly to our maintenance call representatives, and we can set up right away the date and time of repairing your equipment.

The Budapest based call service is available every day ro receive queries and orders. A comuterized support network with several modules helps us to provide quick and cost effective maintenance services. The repairmen receive instructions right away electronically and they confirm the work done electronically too. The repairmen's position is precisely traced to effective supervision.
In e-mail: 
Notify maintenance personnel 24 hours a day at
diszpecser@tchungary.com
.
Please contact your nearest catering service personnel.
Bács-Kiskun megye, Csongrád megye
ZS+N Szolg. Bt.
6721 Szeged, Vadász u.3.
06-62-451-659
Baranya Megye
Tri-Bekk Hűtő és Klimatechnikai Kft.
7631 pécs, Északmegyer dülő 32.
06-30-390-4604
Békés megye
Bimetál-Globál Kft.
5600 Békéscsaba, Bánár u.4.
06-30-206-9970
Borsod-Abaúj-Zemplén megye
Konyhatech 97 Bt.
3521 Miskolc, Szép u. 12.
06-20-932-7215
Budapest, Pest-megye, Komárom-Esztergom megye
Quartisse Kft.
1224 Budapest, III.u.13.
06-1-362-4909
Gastromed kft.
1163 Budapest, Remény u. 59.
06-30-210-1991

Fejér megye
Kántor István
8000 Székesfehérvár, Késmárki u.28.
06-30-2274-399

Győr-Sopron megye
Túri Imre
9400 Sopron,Hunyadi u.23.
06-30-9565432

Heves megye
Dotál 97 Kft.
3200 Gyöngyös, Róbert Károly u.23/1.
06-37-311-106

Hajdú-Bihar megye
Hűtő-Klima 96 Kft.
4025 Debrecen, Arany J.u.42.
06-52-452-719

Jász-Nagykun-Szolnok megye
ZS+N Szolg. Bt.
6721 Szeged, Vadász u.3.
06-62-451-659

Nógrád megye
Miklós és Társa
3100 Salgótarján, Somogyi B.u.6.
06-20-311-2178

Somogy megye
Vass Hűtőgépjavitó Bt.
7400 Kaposvár, Toponári u.71.
06-30-907-8232

Szabolcs-Szatmár megye
Banu-Szer Kft.
4400 Nyíregyháza, Vasgyár u.14.
06-20-599-5245 E/G, 06-20-921-3138 E

Tolna megye
Kiss Nándor
7140 Bonyhád, Székely M.út 19/a.
06-30-902-1420

Vas megye
Gáspár Gellért
9700 Szombathely, Turi P.u.4.
06-30-268-2610

Veszprém megye
Kántor István
8000 Székesfehérvár, Késmárki u.28.
06-30-2274-399

Zala megye
Fenyvesi Péter
8800, Nagykanizsa, Magyar u.8.
06-20-987-1420
Miniszerviz Kft.
8900 Zalaegerszeg, Zrinyi Miklós u.75.
06-20-942 8251
About us
The service and maintenance is provided by the service company of the group operates the largest and densest service network in Hungary. The helpful customer service, experienced staff and friendly prices guarantee the satisfaction of our partners. We have a large inventory of components; therefore the troubleshooting is fast and efficient in every case. Learn more about our services and quality assurance system.


CRS – Errors are handled by call center available every day, even weekends.
PDA  - With automated administration the work done and materials used are recorded on location
TRS - We use reporting system that notifies customers immediately with daily status reports.
TP/EC - we work with etical codex that ensures high quality working processes with technology descriptions.
CLS - Our complex technology system include storage (more than 1.0000 m2 storage space state-wide), storage repairs, refurbishment and asset management.
---
Uniquely, the training and development of our team are organized together with other TC service countries in joined informative training sessions.
Benefits - In addition to the high quality of service activity: Hungary's largest and densest service network is the fastest and cheapest!
TO WIN WITH SERVICE IS POSSIBLE ONLY WITH COSTS AND TIMINGS